Fitting

We at Boundary Carpets are more than happy to fit your own products on a labour only basis.

We use only the best fixings and adhesives as cheap is not always the way forward if you want a product to look its best and stay on the floor.
Services include: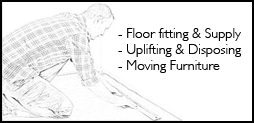 We are proud memebers of Check a trade since July 2011.

And use this site for references for future customers

On complation of work we will ask you to fill out a form or submit comments online so we can keep monitoring
CALL US NOW : 01189 452 633
Enquiry Form
In Need Of Flooring Inspiration?
Boundary Carpets is your one stop shop for all your flooring needs. We provide high performance service with hard working and friendly installation consultants.We believe that customer sevice and satisfaction is the key to our success.